"At LinkedIn we defend the idea of 'Members First'"
Comments gathered by Louise–Camille Bouttier
LinkedIn is strengthening its editorial presence by developing its editorial teams around the world. Now, journalists are both producing unprecedented content (podcasts, videos and articles) and curating news stories suggested by the platform's members. We interviewed Sandrine Chauvin, editor-in-chief for LinkedIn Europe, who is developing the concept of conversational journalism.
Six years ago LinkedIn launched its first editorial team in France, one year after the United States. Why was the decision taken to set up these local editorial teams?
Sandrine Chauvin: Although content is disseminated via the news feed thanks to an algorithm, human oversight is needed to make sure that conversations and content of very high quality are being offered to professionals. Our primary mission is to support members in the production of content and to create conversations linked to economic and business news that interest professionals. Every morning the editorial team publishes the "LinkedIn Recap Actu" (the LinkedIn News Recap), a digest of five pertinent news items accompanied by an "idea of the day" published by a member.
What is LinkedIn's editorial stance?
S.C.: We are trying to anticipate change. Studies show that between 30% and 50% of jobs that currently exist in the world today will either disappear or undergo radical change in the next 5 to 10 years. People will need to adapt, and quick. To do that, they will need to have access to information and to be able to see changes coming. They will therefore need to be connected to the right people and have a vision of the future. LinkedIn and the content available on the web platform should accompany this change.
What is conversational journalism?
S.C.: What we promote at LinkedIn is the idea of participative journalism. The journalist who is an expert in their specific field no longer exists. Today, a journalist is part of a community of people who themselves have expertise within a given domain. The journalist is there to enrich the debate by asking questions, highlighting positive points and inviting members to ask questions to leading figures who they would traditionally not have access to. During a meeting of the National Federation of French Employers (the "Medef"), we interviewed the Minister for Labour regarding reforms to the country's labour laws and training. We asked our members to submit the questions they wanted to ask the minister, who then answered them in the form of a video interview. On TV shows, two people are selected for a debate. With the aforementioned approach, it is the whole community that is potentially involved.
million members of
LinkedIn France.
Which formats are the most popular on the web platform?
S.C.: It all depends on the objective. If we are carrying out an analysis, an article is the most appropriate format: we have the time to explain the topic, to show the viewpoint we are adopting and to respond. If we are covering an event then we will prefer online posts. For videos it's a bit different. For example, they might be highly formatted videos during which influencers address a topic in less than one minute in a recurring manner. A second video format consists of using an extract from a conference, which will then be shared on the news feed. A third video format is the interview format, in which members become journalists by asking questions to entrepreneurs, for example.
How is content produced directly by the internal editorial team disseminated?
S.C.: We have editorial channels that are independent from any commercial activities, allowing us to showcase content depending on the themes addressed and the professionals concerned. This content is then disseminated via our news feed or through notifications on the LinkedIn app. We also have a newsletter that members can receive as frequently as they wish – it's their choice. Content is also deployed via the personal profiles of our journalists, who represent LinkedIn's editorial voice on the platform. LinkedIn's concept of content distribution consists of having a targeted audience. When a member posts something on LinkedIn, they can also see which audience they are reaching (which company, which sector, which geographical zone), thus creating an active community around their desired themes.
million publications each week on LinkedIn
How would you rate the involvement of press editors on LinkedIn?
S.C.: Their activity is still not that developed yet: they have to put in place a strategy for creating communities and conversations. I'm not sure that the conversational aspect of journalism has been fully adopted across the media world yet. That said, we can feel that things are changing. A good example is that of the Harvard Business Review, the English edition of which has attracted a group of two million subscribers as well as millions of followers on our business page. The HBR also has a strong community of contributors who sometimes use LinkedIn to promote content or identify partners for dialogue.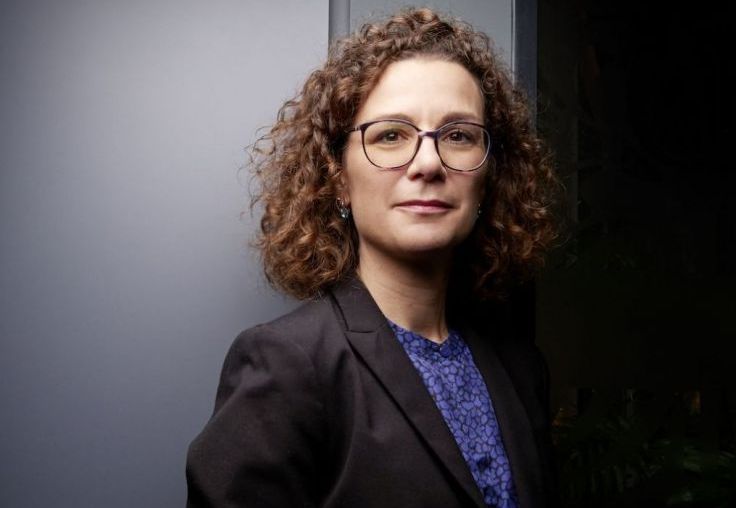 Who is your guru?
Bertrand Piccard, because he is as much an entrepreneur as he is an adventurer. He raised funds to carry out a tour of the world in a solar-powered plane before setting up the Solar Impulse Foundation. And all of this simply to show us that profitable solutions stemming from sustainable development do exist.
What is your mantra?
"Dare yourself". This is what I tell my children: dare yourself to follow your projects or your dreams right through to the very end.
How do you balance your chakras?
I gain energy and strength from my family and from being as close to nature as possible.
Editors' attentions are increasingly focused on groups. How do you see these communities becoming involved in participative journalism?
S.C.: LinkedIn has just launched a new web platform in order for groups to foster the creation of group conversations. Editors can contribute content and create different formats to enrich these communities. The next step in conversational journalism will be to focus on "self-nourishing" communities in which the journalist is a stakeholder in the group, playing the role of an expert or a rapporteur.
Should a content producer be active on two fronts: the business page and the setting up of groups?
S.C.: Often editors tell me that they have problems when it comes to resources, hence the idea of setting up an adapted strategy based on three key elements: a business page, which allows for vertical communication; groups, which showcase the importance of a very specific community and which can become a gateway to subscription for some participants, and, finally, an ambassadors' programme in which members of the editorial team become flag bearers for the brand and "fuel" conversations within the community.
What is the next step?
S.C.: We have just published the first edition of the LinkedIn Top Startups ranking in France, and soon we will publish the new Top Voices 2018 ranking, which identifies the most influential members on LinkedIn. We are also planning to launch some "series" (for example, the "Future of Work series"): a theme will be developed by the editorial team and this will then be developed and grown via comments and conversations created by the community.