"Content: a fundamental change for the marketing sector"
Michaël Mazzoni is director of strategic marketing for BNP Paribas Corporate and Institutional Banking (CIB), a BNP Paribas subsidiary that offers financial solutions to its business and institutional clients. His mission: to oversee a transformation in communication via a strategy centred on content. He is the ideal person to help us better understand the inherent challenges linked to branded content when dealing with clients representing large accounts.
Why did you choose to convert BNP Paribas CIB's institutional website into a content hub back in May 2016?
Michaël Mazzoni: Two years ago BNP Paribas CIB put in place a new organisational structure and a new strategy. A certain number of content distribution channels still existed and we wanted to prioritise the website: it had to be at the heart of our strategy and it had to be a place where we could house all of our content. There was an urgent need to break into new territory and to oversee an evolution in the website, which was characterized by a certain form of passive and institutional communication. We wanted it to be a shop window that we would be able to capitalize on thanks to a communicative approach focused on our clients and their strategic challenges. To bring about this change we need tools that would get our partners, the management and our clients on board. This type of evolution involves transforming the organizational structure. Instead of a system centred on distribution channels, we needed one that would place content at the heart of the organisation.
What impact did this have on your organisation model?
M.M.: It was an easy transition because we had a clear strategy. What's more, our focus on the brand fully supported this change. But identifying the messages we wanted to transmit to our clients was more complicated. This moment also coincided with a period of far-reaching change within BNP Paribas CIB, under the initiative of the new management team. Our way of communicating had to reflect our business strategy and there had to be internal support for the approach. We therefore spent a lot of time explaining the approach, working closely with different business units and with the marketing and communication teams. A change like this means a change of spirit; it entails seeking out new skill domains and identifying new profiles: content managers and community managers for example, working in close collaboration with the different business units. To sum up, it involves working closely with those who understand the reality of our clients.
«

Our way of communicating had to reflect our business strategy and there had to be internal support for the approach. We therefore spent a lot of time explaining this approach, working closely with different business units and with the marketing and communication teams

»
How does branded content impact the communication sector?
M.M.: For large companies, content constitutes a fundamental change when it comes to communication and marketing. Conventional communication departments, which face major changes in this context, have to merge more with marketing departments. With this comes a change in the mindset: the communicator is no longer just an institutional stakeholder. It's no longer about simply buying advertising space: communication is no longer static but based on commitments, data monitoring and, consequently, results. This transformation is unavoidable. At BNP Paribas we have proven that we can bring about radical change in less than two years, but this is just the first phase. The next objective, in the short term, is to put content at the heart of the organizational model and to manage the ecosystem in a more unified way, with content management feeding the different distribution channels. The message is at the centre of it all: it's the key.
pages viewed on the hub since its launch in April 2016 and 900,000 videos viewed on social networks
What is the main objective of your content?
M.M.: It must go hand in hand with both the strategic vision that BNP Paribas CIB wants to transmit and a focus on the concerns and challenges of our clients. The right balance needs to be found between the two, but showing our ability to understand and support our clients is key. It's better to have 30 clients who are very interested in a particular type of content than 500 who aren't: the number of clients is not the most important aspect. To achieve this balance the content must be concrete and well-targeted, and we need to be highly agile with the format. The content must specifically target its audience in order to fulfil the expectations of specific clients as much as possible. We should never lose sight of the fact that the main function of branded content is to help bankers on the ground forge stronger relationships with their clients and support them fully.
How do you choose your partners and your media platforms?
M.M.: We are fortunate to be a large and sought-after bank and our strategy provoked a lot of interest from the moment it was launched. Some partners did not initially understand our new "introspective" approach. We wanted to be capable of producing content that was created two-thirds "organically" and one-third through our partnership with media agencies, notably for large international campaigns. We have to be capable of becoming more professional with our content production without necessarily wanting to become a content production company. A year ago, some media channels had still not understood the changes taking place in large corporations. Sometimes we had to explain them: a brand which is putting in place a content creation strategy needs media partners who are up to the task, partners capable of understanding our strategy, supporting us in finding the right target audience and generating client commitment. We absolutely need personalized formats and not purely generic ones.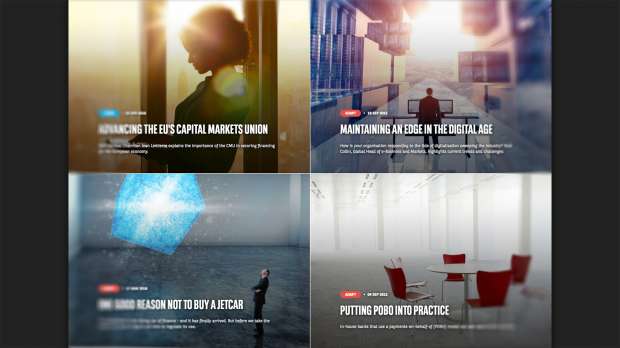 Does this mean you have become a publisher?
M.M.: If media channels and agencies fail to take note of our expectations and the way we want to proceed then there is a risk that we will move into that territory. The media world has both expertise and vision that is attractive to advertisers. Through becoming content producers and by capitalizing on our knowledge of what happens on the ground, we have kind of become publishers but have no intention of becoming institutional publishers.
Discover the BNP Paribas Corporate & Institutional Banking hub at
We simply want to achieve better targeting and better communication with regards to our clients. The experience we have accumulated has enabled us, for now, to create a win-win situation. The challenge today is also linked to the very special relationship we have to create with large social media platforms, which have an ever-increasing influence.
What strategy are you developing with social networks?
M.M.: It will evolve this year because we want to achieve continuous communication so as to guarantee our presence in two key areas: digital transformation and sustainable development. We therefore need to carry out actions that make an impact that lasts. Social networks enable this continuous presence at a low cost and with a high level of targeting. Adapted formats can reap immediate rewards in terms of responsiveness and commitment. This sometimes means reserving certain types of content for social networks only. For example, we have put in place new one-minute vertical communication video formats: they are dynamic and are designed to be seen via mobile phone and on social networks.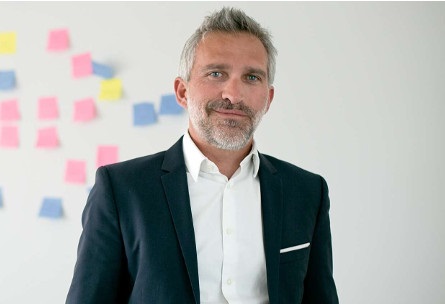 Who is your guru?
The British businessman Richard Branson
What is your mantra?
Be resilient and move forward.
How do you balance your chakras?
By watering my plants.
How do you measure the effectiveness of your initiatives?
M.M.: We have equipped ourselves with monitoring tools capable of guaranteeing that we use our budget in the best possible way and that we focus in particular on digital solutions.
Every company needs to find key performance indicators (KPIs) that can inform them about client commitment. Obtaining highly impressive scores is important for the reputation and image of a large advertising company, but if we want to measure impact, commitment and business activities, KPIs linked to clients' backgrounds are necessary. Over time we need to fine-tune these indicators and be able to explain them to the management.
How does this strategy fit in with the notion of brand awareness?
M.M.: It is fundamental and complementary to the approach linked to the hub. Two years ago brand awareness – the way clients perceive our brand – and reputation were at the heart of our media and marketing communication strategies. This year, our aim is to make branded content the focus of our communication. Work on our reputation, however, remains an important focus in Asia and America, in order to support the brand. In any case, I don't think that we can play the branded content card without paying at least some attention to brand reputation and the brand's global positioning. We therefore need to be dynamic and able to adapt depending on our needs, without losing sight of what's happening on the ground.