"The success of any content marketing strategy is intrinsically linked to how daring it is."
Interview conducted by Alexandra Klinnik and photos taken by Antonin Weber
He was notably the Branding and Advertising Director for ten years at Capgemini Group, a global leader in digital services and the number one provider in France. Now, Emmanuel Lochon is the Chief Marketing Officer at Capgemini Invent, the new brand launched just 18 months ago. In an exclusive interview, he talks to Story Jungle about essential developments for brands in the digital world, the importance of data, and personalised communication, in an era dominated by content.
How would you sum up your ten years at Capgemini, where you held the position of VP of Group Branding & Advertising?
Emmanuel Lochon –
I would probably sum it up in two values, which are actually two of the Group's seven values: ambition and audacity. Since 2010, the Group has been brave enough to focus all of its attention on communicating the brand via digital platforms. The reason behind this was to boost impact and to be able to measure growth more effectively. Our brand communication strategy is now deployed exclusively via new formats and channels. This allows us to reach our audiences and priority targets more efficiently, namely corporate decision makers and new young profiles available for recruitment. The result is clear: between company growth and the impact of marketing and communication, our brand value has significantly increased. An increase that's larger than that demonstrated by the majority of brands in our sector on the market. According to the Brand Finance Institute, an independent brand valuation consultancy firm, Capgemini's brand value has increased by around five times over the last ten years.
«

We realised that the impact of a message sent out by an expert was much more effective than the same message sent out by the brand itself.

»
Do you think that going 100% digital was an effective strategy?
E. L. –
It was certainly a daring decision to adopt the strategy. At the time, the majority of brands in our sector - consultancy, innovation, technology and IT - were too scared to put "all their eggs in one basket." They didn't want to risk cutting themselves off from traditional communication channels. However, what started out as a daring decision quickly became a logical one. Our conviction was motivated by various factors, notably the arrival of data. Since 2010, the use of performance statistics and deeper performance analysis has gradually become more and more prevalent. Admittedly, we're not yet talking about programming, or even targeting, but the potential for computers to use data to measure performance was already starting to emerge. Very quickly, we were able to accurately measure the impact of our operations. In summary, there are three major areas that have evolved communication and marketing. Firstly, digital technologies; secondly, data, which is omnipresent and plays a hugely important role in the transformation of our jobs; and finally, content developed to instil trust between a brand and its audience. This is what the media commonly refers to as the "author-reader contract" between an audience receiving a message and the brand issuing the message. This notion of trust was a relatively minor thing ten years ago. In 2012, through "Expert Connect", a programme that connects more than 1000 Capgemini experts with their networks, we realised that a message sent out by an expert was much more effective than the same message sent out by the brand itself. Data, digital technologies and content have therefore all helped to successfully develop this trusting relationship.
So what really matters in the end is embodying the notion of expertise...
E. L. –
Exactly. One-to-one communication is much more effective than one-to-many communication. With digital platforms, we can adapt the channel and be more specific in our content journey, creating personalised communication that is suitable for the specific context.
«

Our idea was always to let industry players speak out, to move away from classic advertising formats, which don't really lure in their audience any more, particularly B-to-B, and which are often just there to boost the brand's ego.

»
During the ten years that you spent inside the walls of Capgemini, what operations were a true success in terms of digital technologies, data and content expertise? And what ones failed?
E. L. –
It's difficult to summarise our success in just one operation. Clearly, brand content partnerships with mainstream media taught us a lot. We experienced both success and failure in the same types of operations, but not with the same partners. I wouldn't use the word failure. I would qualify some partnerships as "lukewarm", whilst others really got our content "cooking with gas". We found that success was, in the end, intrinsically linked to how daring the media was and its ability to move away from mainstream norms and conventions, whilst respecting the boundary between the partnership and editorial decisions. Our idea was always to let industry players speak out, to move away from classic advertising formats, which don't really lure in their audience anymore, particularly B-to-B, and which are often just there to boost the brand's ego. With the help of the media and content agencies, we quickly understood what our audience was really interested in, and that was first-hand case studies. Our audience wants to hear about other peoples' experiences. We need to distinguish between expertise and experience. It's easier for a company decision-maker to reach out to their audience through a case study from one of their colleagues than from an expert. However, the second can be used to complement the first.
Where do you think the lack of audacity comes from?
E. L. –
It actually comes from both sides. It's just as much the media's responsibility as it is the brand's. For ten years, we have had to educate, analyse and make an impact to explain why it's effective to showcase first-hand experiences - and not always clients. We have to accept that we need to be agnostic and objective when we talk about first-hand case studies.
«

An audience can't be created ad vitam: the decision-makers of tomorrow won't be the same as the ones of today.

»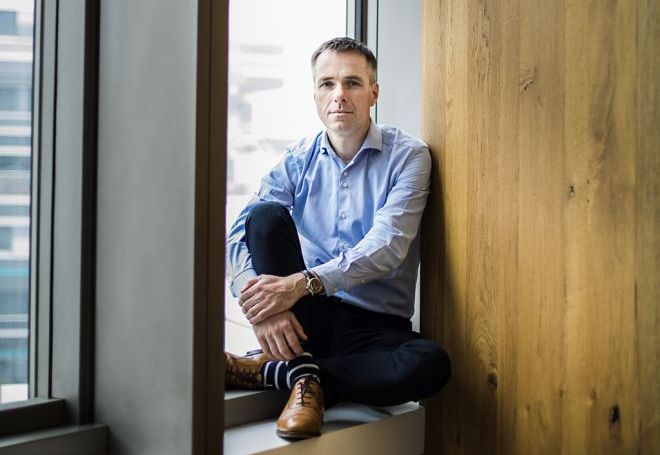 What is your mantra ?
"Better done than perfect." I also like this quote: "It always seems impossible until it's done.
Who is your guru?
I don't have one specific guru, but numerous people who inspire me.
How do you release your chakras?
I release my chakras through handiwork.
We often talk about partnerships with the media. Are they a long-term reality or do you think that brands are able to generate their own audience on their channels?
E. L. –
Recently, the owner of a major US media company told us that it had been a long time since he had seen such a huge craze around a new format such as the podcast. In all his career, he had never seen such fast growth. The podcast is a good example of how a brand can create its own content channel using digital technology - however it still needs to be able to broadcast it. The problem of live broadcasting is a challenge for brands... and an opportunity for the media and broadcasting platforms.
So the question still stands. Do brands need media partnerships? The answer hasn't changed: they need to reach their target audiences, audiences that are constantly being created and renewed. An audience can't be created ad vitam: the decision-makers of tomorrow won't be the same as the ones of today. The way that operations are managed is evolving very quickly. And new generations have a huge influence on organisations. You have to constantly find new ways to reach your target audience. And that's exactly where the media has a key role to play, as well as constructing and adapting to new models quickly and efficiently. With his example of the explosion of the podcast, the owner of the renowned media company I mentioned before was demonstrating that media is constantly reinventing itself. Which is a good thing. Brands need to use new models.
You are now Chief Marketing Officer at Capgemini Invent. What challenges do you face for this brand, which was launched only 18 months ago?
E. L. –
It's a new brand on the transformation, consultancy and digital innovation market, a new brand built on years of extensive experience. To respond to the evolution of the market, we felt that it was important to reinvent the consulting industry and to offer our clients - major companies, and global industry leaders - something new, to allow them to reach their digital transformation goals faster, bringing together a range of strategy consultant profiles, from designers and data analysts to innovators, under one single brand.
In the face of challenges and with so much diversity, we have to work hard to develop teams of promoters and ambassadors who can propel the value of this new brand onto the market. We are currently putting together a team of expert influencers. Who is better qualified than an aggregation of the networks of all Capgemini Invent employees?
For you, does marketing necessarily have to drive sales?
E. L. –
Marketing obviously plays a key role in business development. Is it there to drive sales or does it have more of a corporate role? I think that we have a very pragmatic approach. In the end, we have to analyse the impact that marketing has on turnover growth. Today, there are almost no marketing operations that aren't measured in terms of their impact on sales.
But beyond the impact on sales, there is also the issue of value. Last week, we announced a different type of acquisition: the acquisition of Purpose, one of the world's leading social impact agencies. This operation responds to the important questions that our clients often ask us, regarding our mission and our raison d'être. The notion of accountability is now crucial for brands. We see it in the press all the time: that if a brand doesn't work for society or is not committed to society, it's bound to disappear. And what our study is showing already is that the brands that have adopted this kind of
'clean growth'
strategy are performing better than others. I believe that clients and consumers are taking this element into consideration more and more when making their choices. Certified B Corporations are destined to become the norm.