"Brands can do good for society. Today, they aren't taking enough risks"
Comments gathered by Alexandra Klinnik. Photos by Céline Levain
Thomas Jamet has headed up the IPG Mediabrands France group since 2015. An expert in digital marketing, he also teaches at Sciences Po Communications School and is Vice-President of media buying and consulting union Udecam. As a result of these varied activities, he knows branded content inside out. Story Jungle met him to talk about it.
December 2018 saw the release of the new edition of your book Les nouveaux défis du Brand Content (The New Challenges of Branded Content), which focuses on "emotion marketing". In your view, what are the big challenges facing branded content?
One of the first big challenges lies in the very definition of branded content. It is time for brands to stop considering such content as something different from advertising. It isn't a discipline, but quite simply a different form of interaction between a brand and an audience. As Olivier Altmann, founder of the agency Altmann+Pacreau, puts it in my essay, "Branded content is basically what good advertising should be: building an emotional relationship with your audience, with the consumer feeling like they are being entertained without being pressured to buy anything". With branded content, we are dealing with an engaged audience, not just your average consumer. The second challenge is one of integration: understanding that, unless it is well distributed, good content has no chance of being seen. Good content has to be intelligently distributed to get noticed. You have to be efficient and integrate it in your media strategy. The final point involves technology. Data is changing the way we produce content, particularly through DCO (Dynamic Creative Optimization), which uses programmatic advertising to address increasingly personalised messages to audiences. It is about combining the creative side – magic – and the data – math – to create an impact that really serves advertisers' strategies. "Math and magic" – reconciling the dual imperatives of a data-driven approach and creativity – could be a new mantra for marketing professionals.
«

Branded content is basically what good advertising should be: building an emotional relationship with your audience, with the consumer feeling like they are being entertained without being pressured to buy anything

»
In practical terms, how can brands engage an audience that is increasingly hostile to advertising messages?
Through emotion. The advantage of branded content is that it is neither intrusive nor constantly interrupting. We are involved in people's lives without being invasive, because we are all about creating value. The content is interesting in and of itself and is developed as such. Because it is interesting, the audience are receptive to it, seeing it as informative content. We're not imposing an unsolicited message. It's something subtler. That's why we talk about emotions.
Can you give us an example of a successful recent branded content campaign?
There is the Lego campaign we set up with Kids United Nouvelle Génération – a music group created by UNICEF. The children agreed to sing an original composition paid for by a brand, Pour changer le monde
. There is a music video (viewed over 2 million times on YouTube), a song and a tour. It's a strategy that is working extremely well and it was coordinated with the release of The Lego Movie 2. It isn't conventional advertising; it is content that serves as publicity.
Can you give us another example of a successful operation, outside of your agency?
In April 2014, food brand Fleury Michon launched a major communication campaign entitled "Venez verifier" ("Come and check"). Through a specific website, a Twitter hashtag (#venezvérifier), and a series of micro-reports, they invited consumers to discover the processes involved in manufacturing surimi, those little white and orange sticks of seafood that don't seem particularly appetising at first glance. They adopted a really interesting strategy, going out and meeting professionals from the sector and urging consumers to "come and check". They created concrete, informative, useful content that did not resemble conventional advertising.
We've been hearing a lot in the media recently about harassment, with stories like the Ligue du LOL. How can advertising get a hold of the subject?
I don't think that's possible. It's so pathetic. However, when it comes to content strategy, brand engagement has become a must for firms that want to stand out in a highly competitive environment. You need to be able to express it in the right way, to be as credible as you can. Not everyone can be Nike. There is always a danger when you try and speak out on sensitive subjects, as Gillette found with the hostile reactions to its video about masculinity.
What exactly do you find so interesting about branded content?
Exploring the unexplored facets of the brand and its service offer, above and beyond the product it is selling, and working out how these things can be useful in the audience's lives. IBM has grasped the importance of this, getting involved in the life of big cities through its "Smarter Cities" campaign. They turned billboards into shelters to protect people from the rain, ramps to save them from taking the stairs, and benches they could sit down for a rest on. Brands have a role to play in society, and consumers are attentive to that aspect: it should be advertisers' primary focus.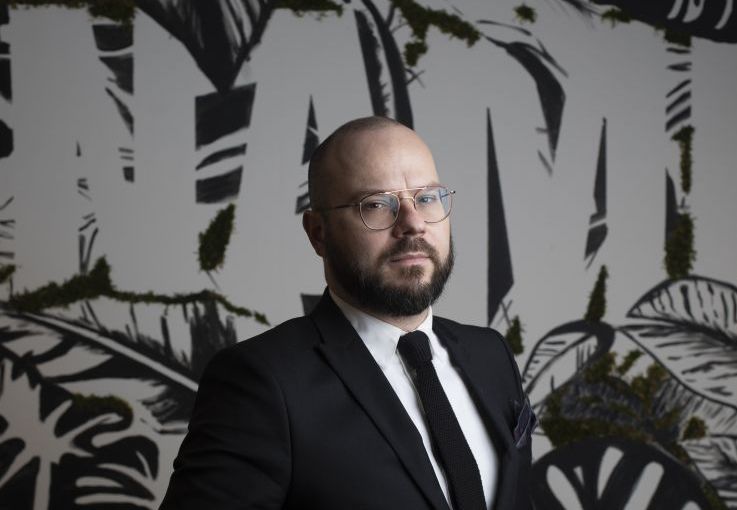 Who is your guru?
Freddie Mercury
What is your mantra?
Math and magic.
How do you keep your chakras balanced?
By writing. I'm currently working on several projects: a political essay and maybe the script for a comic book. I also look after a music group, Electric Pyramid. Linking my job to the arts is vital for me.
At the moment, there is a feeling that audiences want to rally around a shared cause – the Yellow Jackets movement, digital mobilisation. What place do the brands of today have in this environment?
Brands are beacons in the night and they have responsibilities. I am convinced they have the power to bring people together – not necessarily around causes, values or political struggles –, but around shared moments of joy and happiness. I remember a terrific campaign in 2009, organised by T-Mobile in London: over 13,000 people gathered in Trafalgar Square to sing Hey Jude by The Beatles. Those are magic moments that do people a world of good. Brands should not try to act like institutions or governments, because most of the time, that will backfire on them. They need to be credible and legitimate. But they can do good for society. Today, they aren't taking enough risks. They need to use the brand's values to transport people, to get them dreaming.
What future do you see for branded content? What are the formats of tomorrow?
Virtual reality is a magnificent opportunity for brands, because it's a form of escapism. Though the technology is not quite there yet, it's an important avenue to explore. DCO is another option worth considering: the possibility of creating addressable ads via dynamic optimisation that delivers personalised content to people with different consumption patterns and different data. In terms of content, it already exists via native advertising, but I am yet to see a successful large-scale addressable advertising campaign. Finally, branded entertainment is making a comeback, with big movie stars and famous singers joining forces with brands. The simplest recipes work best. Artists are not as reticent as they were a few years back. They have understood that collaborating with brands is part of their marketing.
Today, it seems brands are really looking for cost-effective solutions. Is making branded content the answer?
Absolutely. It's an excellent way of seeing performance as more than just a bunch of KPIs. Of course, we need some of those, but I think you need to factor in qualitative and emotional performance too, and brands need that little bit of soul in order to set themselves apart. A real marriage of "math and magic" can do a lot of good for advertisers, I am convinced of that.