"My remit, as a journalist for the BBC, is to reach new and underserved audiences"
Interview conducted by Alexandra Klinnik - Published on 2 May 2020
The BBC World Service is innovating. The English-language channel released its first Instagram documentary, part of a new push to attract and engage younger audiences. The 10-minute vertical video, titled The Instagram witches of Brooklyn, takes us on a journey through the spiritual movement of "brujeria" (an Afro-Latina term meaning witchcraft) that has gained additional visibility thanks to Instagram. BBC director and journalist Sophia Smith Galer discusses the appeal of the platform. With a big following on TikTok (78,000 subscribers), she also tells us about the growing importance of the Chinese app in disseminating information.
Where did the idea for a documentary adapted to Instagram for the BBC come from? What was your objective?
Sophia Smith Galer –
My remit as a journalist for the BBC is to reach new and underserved audiences – Instagram is a brilliant vehicle for us to put out stories that engage with younger demographics. This is, of course, in addition to the fact that
the documentary itself was also about how these women use Instagram
.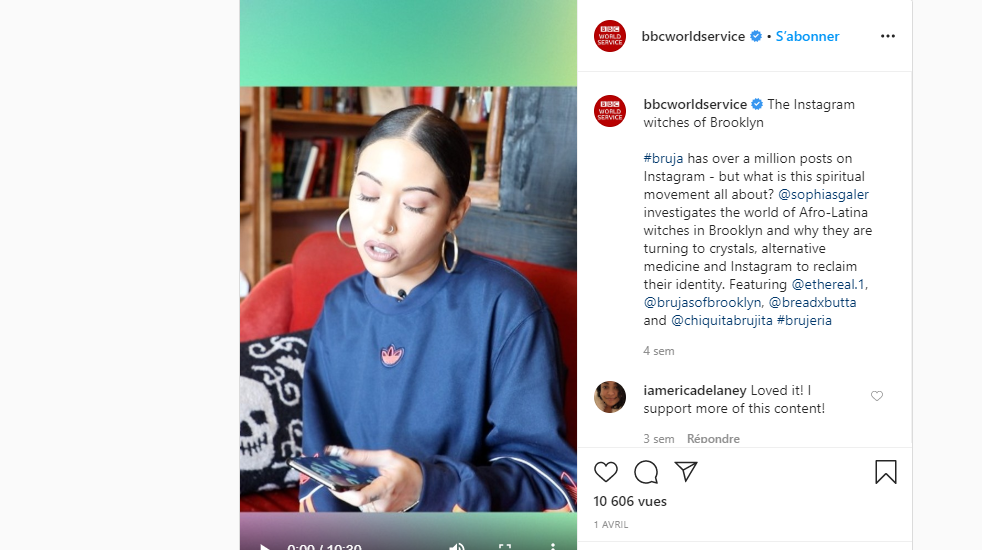 What feedback have you had? What are the advantages of Instagram for this type of content? Since it went online on April 1, the report has been viewed more than 10,000 times...
S.S.G. –
Given the bruja community is very active on Instagram, I knew that it would be guaranteed healthy engagement from the audience, many of whom have never seen themselves or their religious practices reflected back to them in mainstream media. It was very successful for us in terms of our usual IGTV figures and I was particularly impressed by the number of users who saved the video to their collections or sent it privately to a friend. These are hidden interactions which, as a film-maker, are the most important analytics to measure – they really show that the film had enough impact to make lots of people want to share it with their private circles.
You said in one of your interviews, "the gatekeeper of mainstream media tend to keep online videos quite secular." What did you mean by that?
S.S.G. –
It has traditionally been quite difficult for religion reporters, particularly in the British media space which is very secular, to convince editors of the relevance and importance of religion stories. Fortunately, I work somewhere that has a specific remit to cater for diverse religious communities.
Are there any sources of inspiration influencing your videos on Instagram? What are your tips for creating an effective video for social networks such as Instagram?
S.S.G. –
A big inspiration for me is Olivia le Poidevin, an excellent digital film-maker for
BBC Minute
, another BBC World Service Instagram account that makes brilliant content for young audiences.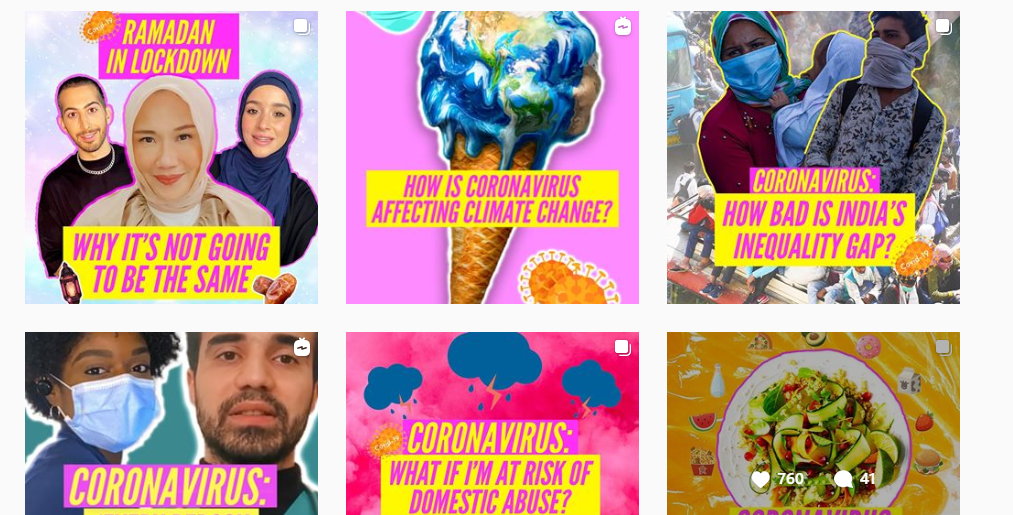 I also really like the films that the BBC Gender and Identity correspondent Megha Mohan makes with Yousef Eldin –
they bring in YouTubey elements
without losing BBC house style or authority and that's exactly the sort of style I want to mirror.
My advice is for it to be well-paced, hashtag-sourced and unafraid to play with user-generated content.
Do you think there has been a change in the way people are consuming the news, since the lockdown?
S.S.G. –
Ironically lots of audiences are going back to linear broadcasting, which has seen a decline in the last decade.
Speaking of digital storytelling and young audiences, you are also a celebrity on TikTok. Your @sophiasmithgaler account is followed by nearly 78,000 subscribers. At the moment, the BBC has no official account. What is your vision on the platform, as a journalist?
S.S.G. –
Lots of news publishers are discovering that there is an appetite for informed and inspirational content. But lots of TikTokkers are reluctant to see brands instead of people come onto the platform – if TikTok loves one thing, it's a personality. That's why The Washington Post has had so much success with
Dave
. A TikTok brand without a face is going to be limited in how recognisable its content is and the possible following it could amass. In a personal capacity, my behind-the-scenes content on journalism does well and I get DMs every day from young people who want to enter the industry. It's life-affirming to see young people want to become journalists (I'm 25 so it wasn't that long ago I was one of them myself) and if my TikToks can get more people interested, then that for me is only a good thing.