"Newsletters bring a large audience to our content."
Interview conducted by Alexandra Klinnik - Published on 18 January 2020
Winner of the Albert Londres Prize in 2001 for his work in Iran, former Deputy Editor-in-Chief at Le Temps, former Deputy Director of Le Monde, and founder of Bondy Blog, journalist Serge Michel recently co-founded Heidi.news, a new Swiss media outlet. The online publication is structured around topics (or "flux"), containing easily digestible mini articles; investigations (or "explorations"), spread out over several episodes; and a daily newsletter, the cornerstone of the media platform. Serge Michel talks to Story Jungle about the importance of having formats that complement each other, about thinking of newsletters as a full media outlet in their own right, and about the "standardisation of articles" in general.
Can you tell us about where Heidi.news all started and its main objectives in a few words?
Serge Michel:
Heidi.news was launched in the spring of 2019
. It's an ad-free online media outlet based in Geneva - a region that has seen the disappearance of several newspapers over the last few years. The idea was to create a media platform that replicates the diversity of information offered by these newspapers, yet also discusses a set of specific topics in depth: for the moment, health and science. These are subjects that are now neglected more than ever by other media sources, certainly in Switzerland anyway.
«

Newsletters bring a large audience to our content.

»
During the Sciences Po conference on long formats, you stated that, "A newsletter published at 6 o'clock in the morning, that's what gets people reading newspapers 10,000 to 20,000 characters long." Would you say that the key to reaching your audience is knowing how to manipulate different time frames?
S.M.:
Exactly.
The
"flux"
, "
explorations
" and
newsletter
have been designed to complement each other. Our most effective newsletter is Le Point du jour. It's a free newsletter sent out in the early morning six days a week. We wanted to talk about the day to come, rather than the day before. Links to our content and a selection of the best content from other sources are embedded into the text. Our highest reading rates for our "explorations" are achieved this way: our newsletters bring in a large audience to our content. The Saturday audience is our largest, and the 6 am time slot fits perfectly into our readers' daily rhythm. These short articles, taking no longer than three minutes to read, give the reader a few ideas for the day ahead. From the outset, we were determined not to create a general media outlet, however this newsletter is a way for us to also address broader subjects too. Each day, the newsletter arrives with the reader from a different city: Hong Kong, Tel-Aviv, Zurich, Dakar, Boston, and sometimes Moscow. Each city has its own regular journalist. And each newsletter is put together as a kind of daily news bulletin. It's a really effective gateway.
What advice would you give to media outlets that want to launch their own newsletter?
S.M.:
I think that you have to think of it as an actual media outlet in itself. At Heidi.news, we gave ours a specific name, an identifiable title: Le Point du jour. By giving your newsletter a name, it gives it a status in its own right, rather than just a summary of news or content prepared by the organisation sending it out. It's also important to think about the email subject. As a general rule, we opt for a title with three subjects, three facts for the reader to latch onto ("Tsai's victory, amazing fungi and terrestrial veins"; "Artificial snow in Moscow to celebrate 20 years of Putin, disappointment for Canadian cannabis and Russian caviar in danger of extinction"). We also work hard to make sure that our newsletter has a personal touch to it. Each journalist has his or her own individual introduction. We have five writers with different writing styles: they each exist individually in their own right.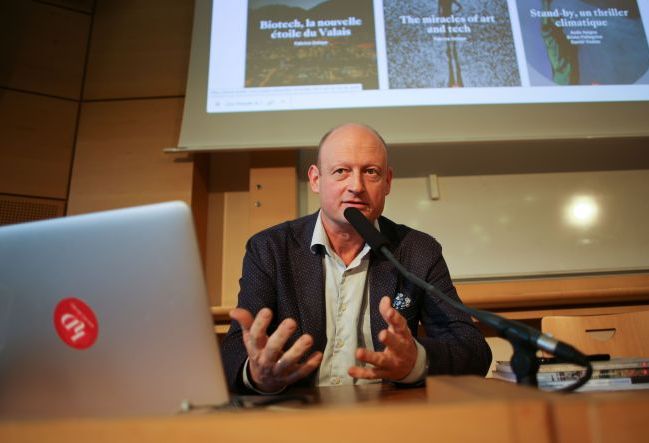 What is your mantra?
Enjoy your work.
Who is your guru ?
Nicolas Meienberg (Swiss journalist, 1940-1993) and Albert Londres (I've read all his works!).
How do you release your chakras?
By reading The Economist in bed on a Sunday morning and saying goodbye to my motorbike last year for a good electric bike.
Do you think that long formats are also a good way to capture the reader's attention in the long term?
S.M.:
Yes. I am extremely alarmed by the appearance of new journalistic formats. Long formats allow us to make sense of things, to create an experience for the reader and to share the exciting adventure that our industry still represents with our audience. At Heidi.news, click rates on our "explorations" are not huge. However, they are the content that bring us the most subscribers. Internet users are responding well to our strategy of delving deeper into topics and getting right to the bottom of issues. Our "explorations" are spread over two months, with an average of one episode per week. And we are seeing that users are reading them even several months after the release of the last episode. This allows us to gradually construct communities based around specific subject matters. The only thing that we are not sure of is the weekly rhythm: I think that reading a weekly publication is becoming a bit of a lost habit. We are going to start trying our "exploration" episodes on a daily basis. Some of our long formats are also printed in a quarterly magazine after they are removed from the site. Digital formats and printed formats complement each other really well - running on completely separate time frames.
«

Reports and journalistic texts in general have been standardised terribly over the last twenty years.

»
During the Sciences Po conference on long formats, Iranian blogger Hossein Derakhshan suggested that we think about content using an "affective" narrative, using real scenarios and people. Do you think that this is an editorial strategy we should be developing?
S.M.:
Absolutely. Reports and journalistic texts in general have been standardised terribly over the last twenty years. In most articles, you'll find people described in a single sentence. However, when you're a journalist, the interest lies precisely in meeting real people with complex backgrounds and compelling personalities. Why don't we tell the world more about these encounters? The people who we meet still exist after we have finished writing. The only way to do them justice is to bring these people to life in our articles. When I read articles in the daily press, I'm often left feeling frustrated that I don't know more. You can't describe a person in two words and reduce their ideas to just two quotations. The interest lies in the depth.
At Heidi.news, some content is in English and some is in French. During the conference, you expressed your disappointment that Le Monde does not publish any articles in English.
S.M.:
Many initiatives have been set up to have Le Monde translated into English: many believe that it is important to make France's voice heard outside of France. I think that a newspaper like Le Monde should employ English speakers to write articles directly in English - I don't think all the existing content necessarily needs to be translated. Language isn't as important as it was in the past. When we talk about issues related to the Chinese economy, for example, we know that readers of these articles, even in Paris, will have a command of English, at least as a working language. I know what I'm saying is quite bold, but I think that the equation of "Le Monde = French language only" should be challenged, just like the equation of "The Financial Times = readers in London only" was challenged.
«

Media outlets that have bet everything on advertising are not in good shape

»
According to the Reuters Institute annual report on media trends, when asked, half of publishers predict that subscriptions will be their main source of revenue in the future. For Heidi.news, was an ad-free model the obvious strategy?
S.M.:
Definitely. Several criteria came into play. Firstly, the number of visits we would have to reach for advertising rates to be of any interest had to be taken into consideration, even in a small country like Switzerland. The advertising model also leads media outlets to publish content of inconsistent quality. You need a certain number of articles, articles that you don't necessarily want to be spending your time on: your freedom is restricted. Advertising has diminished so much over the last couple of years that it didn't seem logical to launch a new media platform based on a model that was nearing exhaustion. Look at the difficulties BuzzFeed is facing. Media outlets that have bet everything on advertising are not in good shape.
That said, I believe that intelligent, private philanthropy, like what the Bill and Melinda Gates Foundation is doing with twenty or so media organisations around the world, such as Le Monde and The Guardian, can be used as an additional resource alongside subscriptions. Philanthropy, notably in France, has long been concerned with culture, science and social work. However, media organisations are central to the survival of our democracies, they deserve the attention of our foundations! At Heidi.news, it's still a modest amount, but around 10% of our first financial year revenue was achieved through donations, respecting a strict ethical charter.
What major challenges can the press expect to face in the future?
S.M.:
Regaining control in an ecosystem dominated by technology and by communicators who have relentlessly employed journalists to serve individual interests. The same goes for the future of democracy. If only Google had been invented by the media... after all, "search engines" and journalism used to be one and the same, don't you think?
Lead photo: © Sciences Po Journalism School
Biography photo: © Nicolas Lieber