"Being seen as a reliable source of information"
Phillipe Duchêne, who masterminds digital strategy for Ingencio, a group specialised in payment systems, analyses how the company has succeeded in transitioning towards brand publishing.
What is at the heart of Ingencio's content strategy and what led to its development?
Phillipe Duchêne – The initial idea was to develop our presence on social networks, where many of our competitors have a significant head-start after positioning themselves as leaders in their sector of activity. We wanted to produce content dedicated to the world of payment, a domain in which we have both legitimacy and expertise. We also wanted to better highlight the evolution and positioning of Ingencio Group, which has transitioned from a producer of terminals (hardware) to a multi-channel payment service provider that holds increasing weight in the domain of online payments. We established ourselves by signalling our presence at events and by "pushing" content such as press releases and white papers. Aware of the dense nature of this type of content for platforms such as Twitter or LinkedIn, we wanted to go further and create a blog where we could put the focus on our experts. This format offered the possibility to utilise and add numerous formats (written text, video, infographics etc.) but, above all, to speak more easily with people who are not used to simplifying the way they explain their area of expertise.
Did you need to educate internal stakeholders to get people on board with this initiative?
P.D.: At the beginning yes, we had to engage in dialogue and explain our approach. Firstly, because adding to the workload of people who are already very busy and in demand is always complicated. Secondly, because it is impossible to ask an expert in biometrics, encryption or anti-fraud to speak about their job through a slide. We therefore had to show that we were there to facilitate things. This is why we chose interviews carried out by journalists as our favoured approach. The people interviewed feel valued and have to force themselves to be succinct and take a step-by-step approach in their explanations. This approach has helped to unblock things internally, and has led to a lot of interest on the part of others who want to be involved.
During the creation of the blog, what were your objectives with the different types of content?
P.D.: When creating the blog we had two objectives: broaden brand awareness – that is to say the way people perceive the brand – and develop thought leadership through the production of highly-specialised content in order to further legitimise Ingencio's voice. Through our content and by putting the onus on our experts, we are modestly trying to become a pertinent and legitimate source of information in the world of payments.
Discover the Ingencio blog at
When newspapers or specialised media channels start seeing our blog as a reliable source of information, and when those in the marketing and business world start wanting to know more about our solutions, that is the highest accolade we can dream of receiving.
«

Through our content and by putting the onus on our experts, we are modestly trying to become a pertinent and legitimate source of information in the world of payments

»
subscribers to "Ingencio Group – Sharing the Future of Payment" on LinkedIn
What kind of audience are you trying to reach?
P.D.: From a corporate viewpoint, it's about trying to develop a relationship with the media, whether traditional or trade press, and with opinion leaders. This requires team work involving, amongst others, our Head of Content Coba Taillefer, with the support of Elise Rouyer, and our Community Manager Julien Aime, and contributors from the 140 countries where we have a presence. From a marketing and business point of view, we're trying to attract marketers with a voice that is different from the one we use on our website: we are trying to push content with a strong added value. For example, we might try to offer food for thought and solutions to a marketing director from a retail company that wants to revolutionize both their point-of-sale and the customer's buying experience. Finally, as a group that is floated on the stock exchange, it is important to provide material for investors who may write about us or advise their clients on whether to buy or sell Ingencio shares.

With its blog, Ingencio gives a voice to its experts while also delivering a large dose of educational content


What types of format do you prefer and why?
P.D.: Our strategy is shaped by our editorial committee meetings, which take place every six weeks. During these meetings we look at the range of information that our subsidiaries, business units and innovation labs want to showcase. Then we think about the best way that that information can be digested and processed by the audience. We are keen on "long story" formats, which fit well with the technical nature of our work. We also like nanographics and infographics, as they enable us to present some impressive figures that speak to a wide audience. Simplifying content and explaining what payments and Fintech is all about in general terms fits perfectly with our positioning: Ingencio as a facilitator.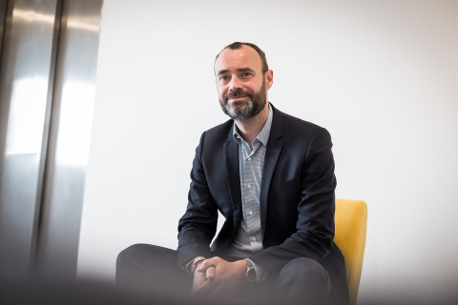 Who is your guru?
I don't have one guru in particular but I do have admiration for entrepreneurs and creators in general. Doing something that few other people can do, whatever the domain, always impresses me.
What is your mantra?
Always move forward, whatever the obstacles in your path may be – and there can be many of them within a large group. I always try to move forward by trying to find the right balance between small achievements and large projects.
How do you balance your chakras?
By playing the guitar and by rowing. I love water and that gliding feeling. In fact, participating in a boat race is a pretty good experience! Even though we don't win that often...
Do you consider yourself to be a publisher?
P.D.: Let's just say that we consider ourselves as legitimate enough to become publishers of useful content concerning the world of payments. That takes time: the goal now is to produce more and more content, and to show that our current 44,000-strong follower base on LinkedIn constitutes an audience that wants content produced by a publisher called Ingencio. An advertiser who wants to become a publisher needs to find their unique style and identity, and they need to always be trying to further the production of tailor-made content. From that point on it's all about quality. In the Fintech sector in particular, turning up with flashy gimmicks but without having much to say is a sure-fire way of running straight into a brick wall.