"Branding is all about expertise and content"
Emmanuelle Raveau is director of external communication and marketing at EY France, a world leader in auditing and consultancy. Being in charge of brand deployment means she has a hand in strategic thinking, above all when it comes to innovation and contributing to the transformation of the company. Based on her own wealth of experience, she shares with us her vision of brand publishing
What kind of strategy are you developing at EY France, regarding both web platforms and social networks?
Emmanuelle Raveau: Our brand deployment strategy is quite new when it comes to developing content. We have been creating branded content for a very long time and we have published numerous studies in PDF format focusing on our four main branches of activity: auditing, advisory services, law and tax, as well as transaction advisory services. But this content needs to be more visible because it generates business for us. Our website, which is currently being revamped, is like a shop window displaying EY's expertise. While waiting for the modifications to be completed we decided to create our own content web platform in order to broadcast content in a more intelligible and accessible way. Our clients need us to deliver extremely high-quality, tailor-made content that responds to the challenges faced by company CEOs. Our "Questions of Transformation" website stands out from the crowd, with interviews with CEOs from large companies speaking about transformation, its impact and how they have addressed issues related to it.
Discover the "Questions of Transformation" website:
How does this approach fit in with the company's more global strategy?
E.R.: It fits perfectly with an initiative that we have launched internally called "TDay" or "Transformation Day". This involves a series of conferences aimed at our target audiences in which CEOs of large companies speak about the theme of transformation. We need content that can become and remain viral. Brand publishing constitutes turning the brand into a media channel. It shouldn't be just another logo on the side of a building but a sign of expertise backed up with associated content. Our clients need to be able to rapidly find data related to issues such as the industrial sector of the future, the housing market or the health sector, in order to fuel their thinking. With this new way of approaching content we are a lot more reactive: we now have continuous information. Today, all too often, the digital option consists in carrying out a study that is not in printed form and publishing it online as a PDF: the digital approach is more than that, it is a state of mind. We need to have a digital mind-set from the very beginning when it comes to our studies, whether on our web platform or on social networks. We need to think up different formats that are not downloadable.
«

Our clients need us to deliver extremely high-quality, tailor-made content that responds to the challenges faced by company CEOs

»
How do you succeed in reaching diverse target audiences?
E.R.: Before we had a tendency to publish a lot of content linked to our expertise without asking the right question: which type of content should be directed towards which target audience, and is this really the content that they need? Our approach is based on client experience, which was not necessarily something that a company like ours was used to. We now think about the specialist topics that might interest our clients, topics linked to organizational transformation, which is a major issue for all companies whatever their size of level of activity. When supporting our clients we always ask ourselves what will make the difference in a competitive environment – this is what captures their attention.

of the website's audience comes via social networks
What do you think are the most relevant formats for capturing the attention of your target audience?
E.R.: I'm in favour of relatively short, journalistic-style formats. Academic formats, which can be 40 or 50 pages long, no longer really respond to the challenges that the digital world has brought with it. The longest amount of time an avid reader dedicates to a newsletter is six or seven minutes max. In that amount of time you have to give them the most up-to-date information and shed as much light on it as possible. They will then be able to take away three or four key words or figures from it for the day. This information, which will offer them both food for thought and a framework for action, must act as a gateway to subjects as diverse as the industrial sector of the future, tomorrow's health care or the augmented human.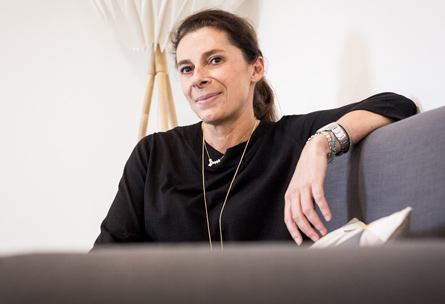 Who is your guru?
I don't have a guru as such but I like to draw from different sources of inspiration. That's also the basis of how we operate.
What is your mantra?
This quote from Sébastien-Roch Nicolas Chamfort: "The saddest of days is the one when we don't laugh," because the world around is difficult enough as it is.
How do you balance your chakras?
Through museums, exhibitions, the opera... through culture in general. I recently went to see a ballet, "Drumming Live", at the Bastille: I came out of it feeling electrified!
What is the impact of social networks on your strategic communication?
E.R.: The primary ambassadors of a brand and what a company produces are the people who work in that company. If you haven't completed your internal business plan then you are also jeopardising your external one too. As a result, our web platform was first launched internally, so that internal staff could become familiar it and then take ownership of it. We can't oblige staff members to massively share company-related content online: they will only pass on information if it has a value. After launching the site internally we rolled it out externally, with social networks as our basis. This was mainly done via LinkedIn and Twitter, where different stakeholders are waging a veritable "format war", notably in order to make sure that their slogans and videos "stand out".
Do you consider yourself a publisher?
E.R.: No, not yet! But we do publish an enormous amount of content and we are drastically changing the way we distribute that content externally. Thanks to the web platform and the overhauling of our website we're on the right track, with brand publishing that has strong digital support and that focuses on client experience.

Where do you see your content in 10 years' time?
E.R.: We should have content that goes beyond the limits of our expertise. EY will not become a think tank, but it would be interesting for us to take on a new dimension and to become a real stakeholder when it comes to making social and economic commitments. I believe it's important to have a voice that goes further than our expertise, which will always remain irrefutable. We will carry out qualitative analysis of microdata, which is what will push us beyond the boundaries of our natural fields of expertise. For example, we will produce studies on life on Mars. The wealth of data available will most probably help us.